Difference between revisions of "Pixbattlers - Spellcaster Hilda(Ækashics)"
Jump to navigation
Jump to search
---
Latest revision as of 14:29, 29 June 2022
Introduction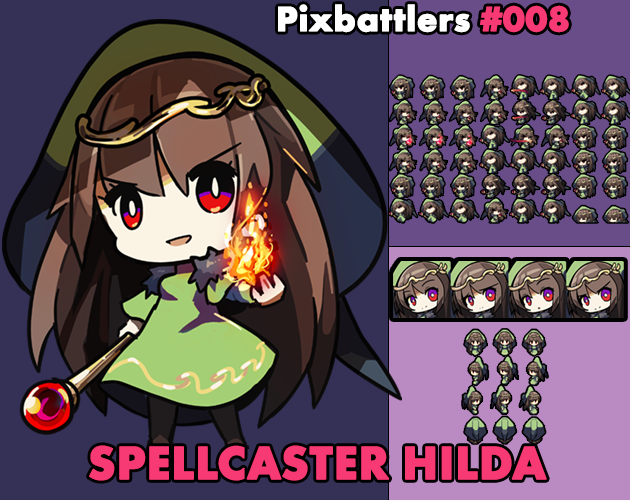 Pixbattlers is a series of RPG themed character assets featuring an animated SV sheet, 4-dir map sprite, Full body Portrait and 4-Expression faceset, oriented towards providing alternative sets of characters to explore your game ideas with and fully in tune with Librarium's visual style!
-RPG Maker MZ Optimized !
-RPG Maker MV Compatible!
-Non-engine restricted, bring these characters to your engine of choice!
-Growing and on-going!
-Fully visually compatible with thousands of Librarium Assets!
Today we see the release for Spellcaster Hilda!
Gifs & Screenshots feature an RPG Maker MZ Implementation powered with Battle Core Visustella MZ action sequences!

Download it today!
Terms of Use
-Please credit me as Aekashics/Ækashics and link back to http://www.akashics.moe/ !
-Use in any game engine – ok!
-Commercial use – ok!
-Non-commercial use – ok!
-Edits for your project needs – ok!
-redistribution of content in the pack – not allowed!
-redistribution of edited content from the pack – not allowed!
-Scope of use outside of game development – Usually always ok! Feel free to contact me if you have any questions!
-Use in TCGs/Physical Games - Please credit me as Aekashics/Ækashics on the item where a Librarium character/creature design is used!
-Anything not covered – Feel free to contact me!
-Ækashics ヾ(o✪‿✪o)シ