Difference between revisions of "Stella Character Generator (Visustella)"
Jump to navigation
Jump to search
Line 52:
Line 52:
 

; This asset pack is not restricted to RPG Maker!

 

; This asset pack is not restricted to RPG Maker!

 
 
−

* The Demo is for non-commercial use only.

 
 

* The Paid asset pack can be used for commercial games.

 

* The Paid asset pack can be used for commercial games.

 
 
---
Revision as of 15:22, 6 May 2020
Download
Introduction
Commissioning art for your characters can cost upwards of $100-$200 USD for one FULL BODY portrait alone. Add an extra $100 for complex clothing and facial expressions. And that's even WITHOUT the map sprites!
So if you've ever wanted art or sprites for your original characters, but can't afford to commission an artist, you might be stumped since other generators don't do what you want?
That's where the Stella Character Generator saves the day! For a one time cost, you can have access to THOUSANDS of combinations of character parts to design your very own custom characters.
Stella Character Generator is a multi-purpose character generator created with Top-Down RPGs and other artistic projects in mind.
Features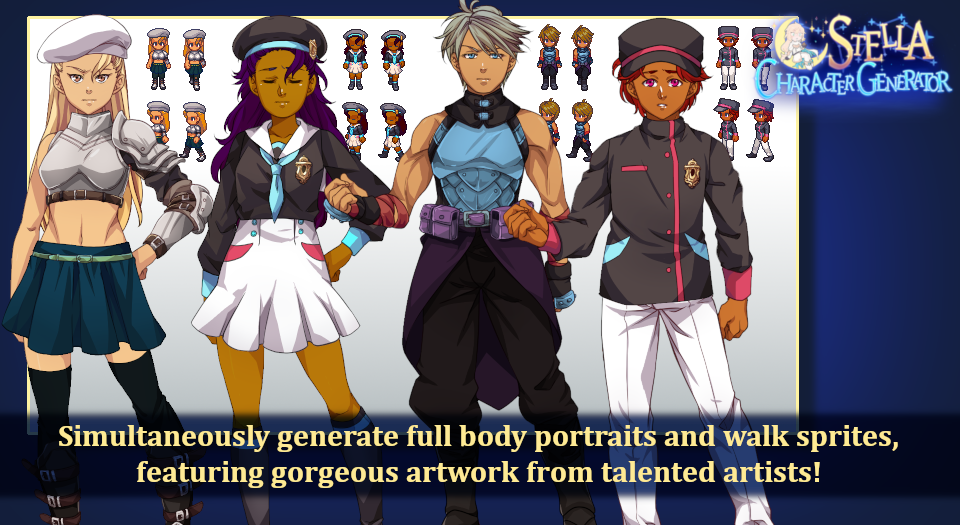 Beautiful premade assets that can be used in any game engine!
Easily add templates of any sprite size and no engine restrictions.
Supports masks that allows you to recolor parts easily Includes HSL, RGB and Pre-determined Colors.
Offset Button letting you move parts with pixel perfection.
The limitation is your creativity!
Assets Included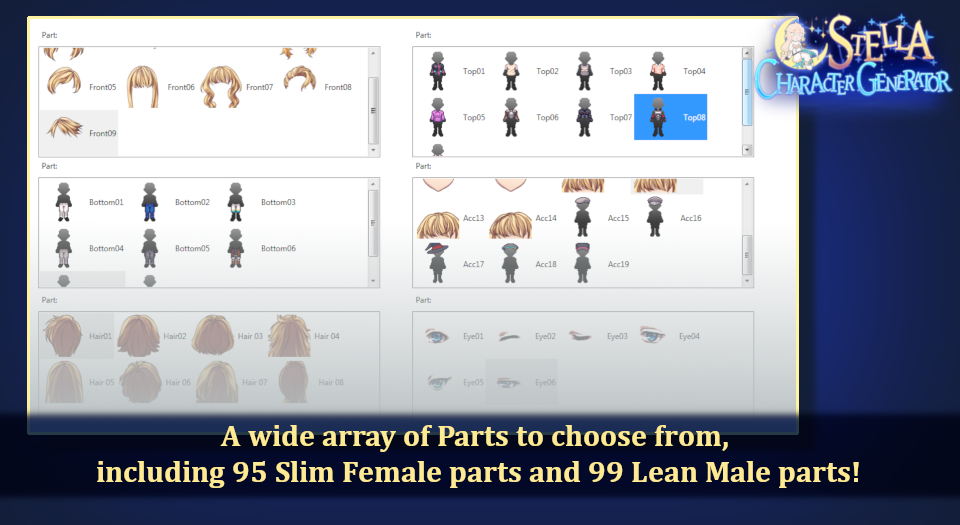 Full Body Portraits (including 95 Slim Female parts and 99 Lean Male parts)
Matching Top Down Walking Sprites
Controls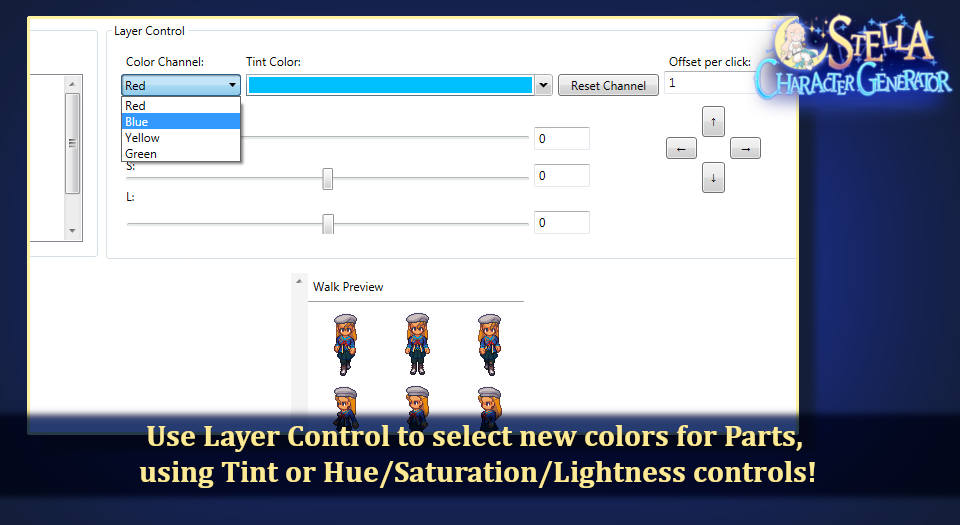 Sideview Character Template and Parts
Absolutely everything you need ranging from hues, saturation, parts selection, and more!
= Installation
Thank you for using the Stella Character Generator!
Please check the manual, you will find explanations for each function, as well as helpful tips for using the software.
If you are using Windows 10, please be aware that you will need to Unblock the zip file when you download it. Simply right click the exe file, select Properties and click "Unblock" under General.
After downloading the software, if you struggle to open the exe file, please make sure to whitelist the executable from your antivirus/anti-malware software..
Please enjoy!
Legal
This asset pack is not restricted to RPG Maker!
The Paid asset pack can be used for commercial games.
Frequently Asked Questions
My antivirus / malware software says that the exe is dangerous. Is there a virus?
It's a false positive. The software is completely safe. Please whitelist it so it won't be deleted or quarantined.
Can I create and/or edit my own parts?
Yes. But you are not allowed to distribute this engine and any of the graphics, edited or otherwise as a resource for anyone else. Please read the EULA for legal implications.
Can I create my own parts and sell it with this software?
No. Please contact us if you have any interest in doing so and need permission. We can discuss it.
Where are the side-view sprites? (Keywords: Sv, side-view, sideview, sprites)
Currently, the Visustella Sideview sprites are a work in progress and are not available with the default Stella Character Generator. We are looking to provide Sideview sprites in the future also!