Stella Character Generator (Visustella)
Jump to navigation
Jump to search
Download
Introduction

Commissioning art for your characters can cost upwards of $100-$200 USD for one FULL BODY portrait alone. Add an extra $100 for complex clothing and facial expressions. And that's even WITHOUT the map sprites!
So if you've ever wanted art or sprites for your original characters, but can't afford to commission an artist, you might be stumped since other generators don't do what you want?
That's where the Stella Character Generator saves the day! For a one time cost, you can have access to THOUSANDS of combinations of character parts to design your very own custom characters.
Stella Character Generator is a multi-purpose character generator created with Top-Down RPGs and other artistic projects in mind.
Features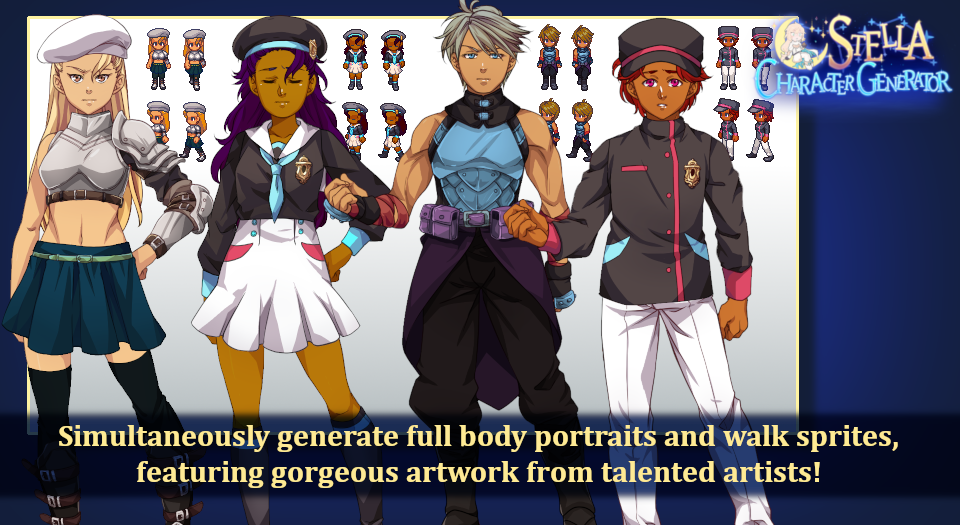 Beautiful premade assets that can be used in any game engine!
Easily add templates of any sprite size and no engine restrictions.
Supports masks that allows you to recolor parts easily Includes HSL, RGB and Pre-determined Colors.
Offset Button letting you move parts with pixel perfection.
The limitation is your creativity!
Assets Included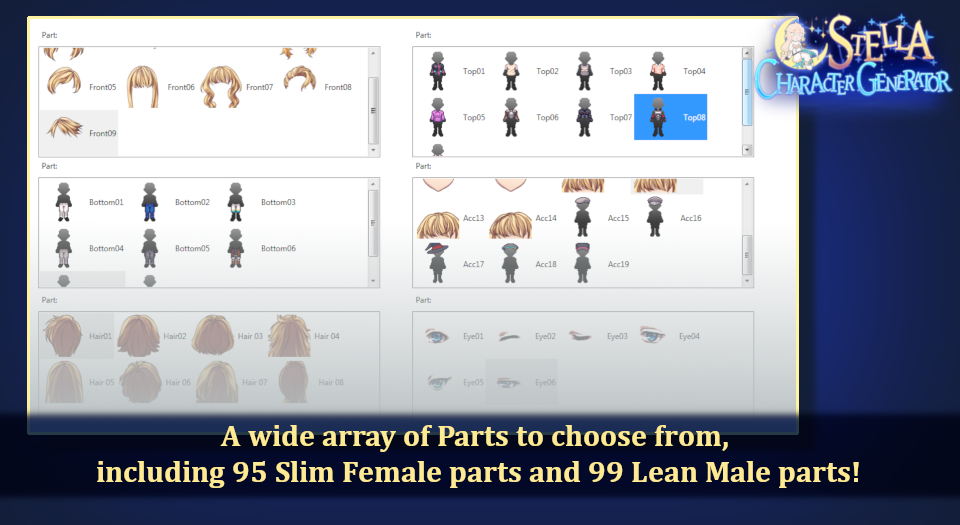 Full Body Portraits (including 95 Slim Female parts and 99 Lean Male parts)
Matching Top Down Walking Sprites
Controls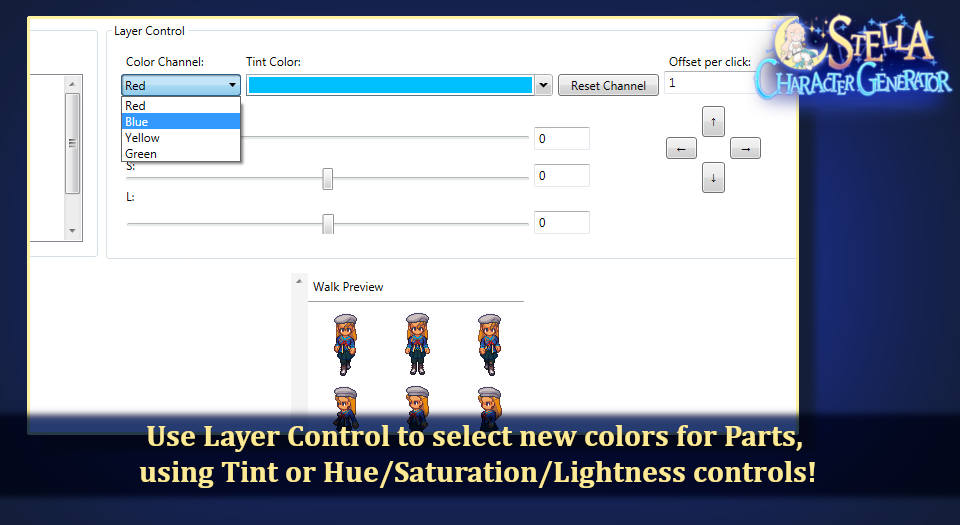 Sideview Character Template and Parts
Absolutely everything you need ranging from hues, saturation, parts selection, and more!
= Installation
Thank you for using the Stella Character Generator!
Please check the manual, you will find explanations for each function, as well as helpful tips for using the software.
If you are using Windows 10, please be aware that you will need to Unblock the zip file when you download it. Simply right click the exe file, select Properties and click "Unblock" under General.
After downloading the software, if you struggle to open the exe file, please make sure to whitelist the executable from your antivirus/anti-malware software..
Please enjoy!
Stella Character Generator Tutorials + FAQ
Please visit this link to find more information about the product and where to ask for help.