Category:Notetags (MZ)
Jump to navigation
Jump to search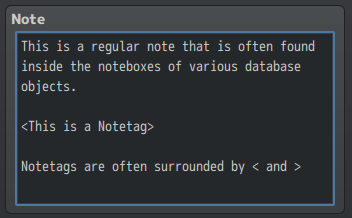 RPG Maker MZ's editor is unable to allow for custom traits/properties that a game dev may wish to associate with a database object, event, map, etc. Notetags are used to work around such limitations by allowing the game dev to tag certain traits/properties using specific Notetags declared by the related plugin.
Here is a list of Notetag(s) that you may use.
Pages in category "Notetags (MZ)"
The following 69 pages are in this category, out of 69 total.